The Apprentice Experience
by Lexi Weintrob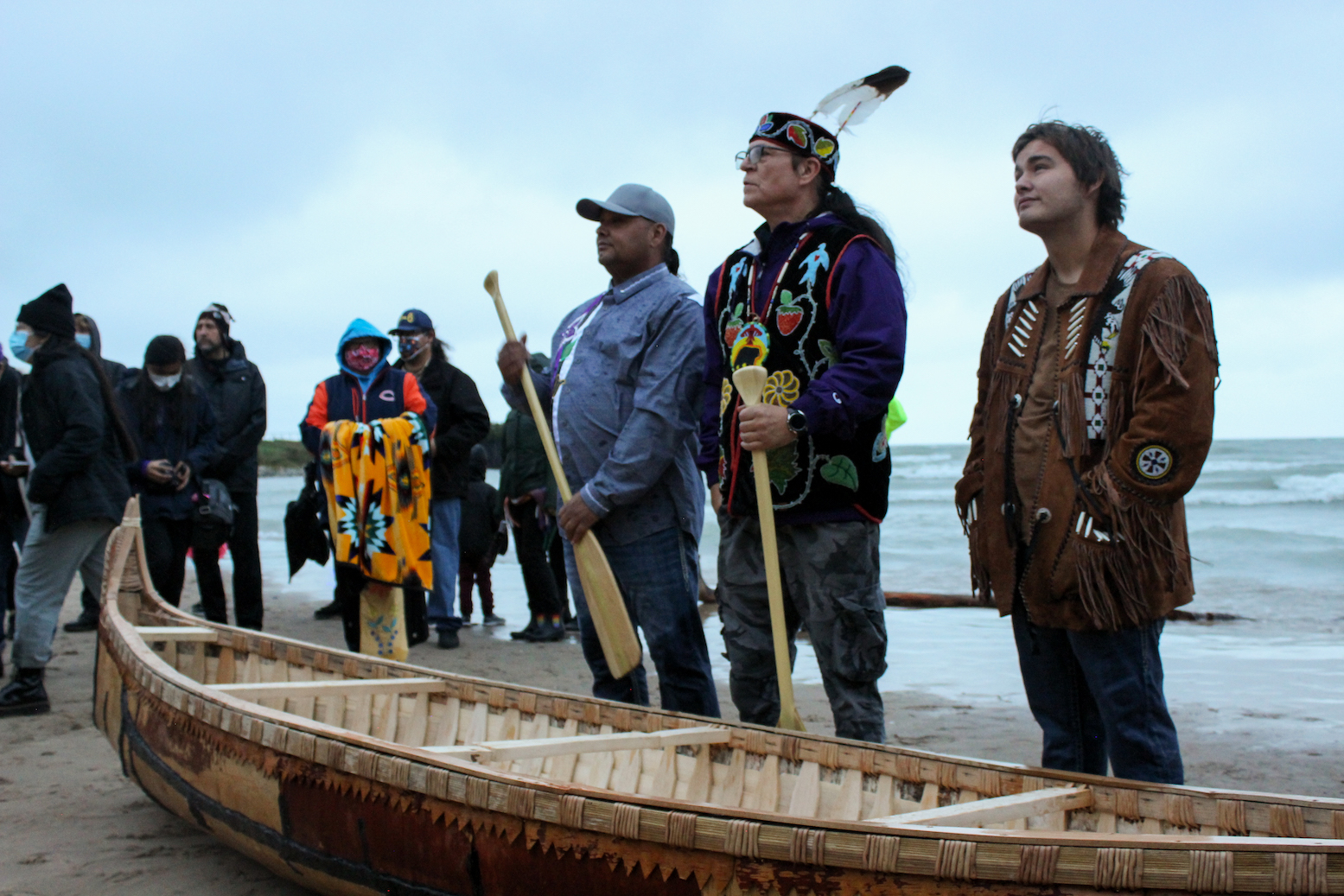 For father and son, Jorge Cisneros Sr. and Jeffery Cisneros, members of the Potawatami tribe, working as apprentices on Valliere's canoe has been not just a construction experience, but one that has had a profound impact on their lives. Jorge and his son first met Valliere four years ago when he visited their reservation to build a canoe with a Youth Prevention Program. This was a very exciting project for Jorge, who, with his wife and other community members, founded a grassroots, non-profit organization to help people on his reservation recovering from drug and alcohol addiction.
Jorge explained that domestic violence, sexual assault and drug use are very prevelant issues on reservations. He shared how he and his son have experienced some of these hardships firsthand. "I was a drug addict, alcoholic, went to prison," Jorge said. "My sons were in group homes and stuff like that. I sobered up, got all my kids back, I'm a survivor of sexual assault as a child and my brother died in my arms. My sister and nephew died a month after that."
For Jorge, being a part of a project like Valliere's has been a key part of his healing process. He compares it to the 12-step program that many people go through to recover from addiction. For Jorge, his program "is culture, you know, doing stuff like this with Wayne."
He hopes that projects like this can help many people on his reservation, particularly children. Jorge and his team believe that culture can be used as prevention, and that teaching Native youth their history, language and culture through projects such as Valliere's canoe can lead them in the right direction. "Fingers crossed that day ain't gonna turn into drug addicts, alcoholics, sexual assault," Jorge said.
Jeffery is an example of how a project like this can benefit Native youth. As Valliere's language apprentice, Jeffery is learning the Anishinaabemowin language and the canoe building process. When asked what he will take away from this project, Jeffery said that "I learned that we're no better than anything on this Earth. I learned that if you go through a lot of trauma, a lot of good's gonna come back. And I learned that if you see somebody doing bad, walk away. I learned that if you see somebody that needs help, help them."
Both Jorge and Jeffery emphasize the power this project has in unifying people and nature, an idea central to Native culture. Jorge reflects positively on the diversity of people that have come to help with the project, saying "with this canoe build right now, we have different tribes, different races, different people, you know, are all interested in this building. You know, we're all part of the human race, you know, we got to learn how to live together and protect the Mother Earth and our environment."
Jeffery shares a similar belief towards the connection of nature and humankind, saying that "it's awesome that the trees love us enough to allow us to do that to them, to allow us to cut them down to make them into a canoe. I think that's beautiful that animals, trees give their life for us … and I feel like that's messed up that no one has that respect anymore."
The two will look back on this project fondly, remembering the lessons it taught them and the joy they felt throughout the process. Jorge laughed while describing a memorable experience with Valliere: "priceless moments that we, we really endure, you know, try to remember, he'll sing a song, he'll just burst out of nowhere, and him and my son will just start singing a song. I was like, 'oh, man, that's a good one, sing that again.'"
Back to articles