Master Anishinaabe Birchbark Canoe Builder Wayne Valliere shares talents with Northwestern
Valliere, a member of the Ojibwe nation, built a canoe that marked the first Anishinaabe canoe to touch Lake Michigan since the Treaty of Chicago in 1833
by Maya Mojica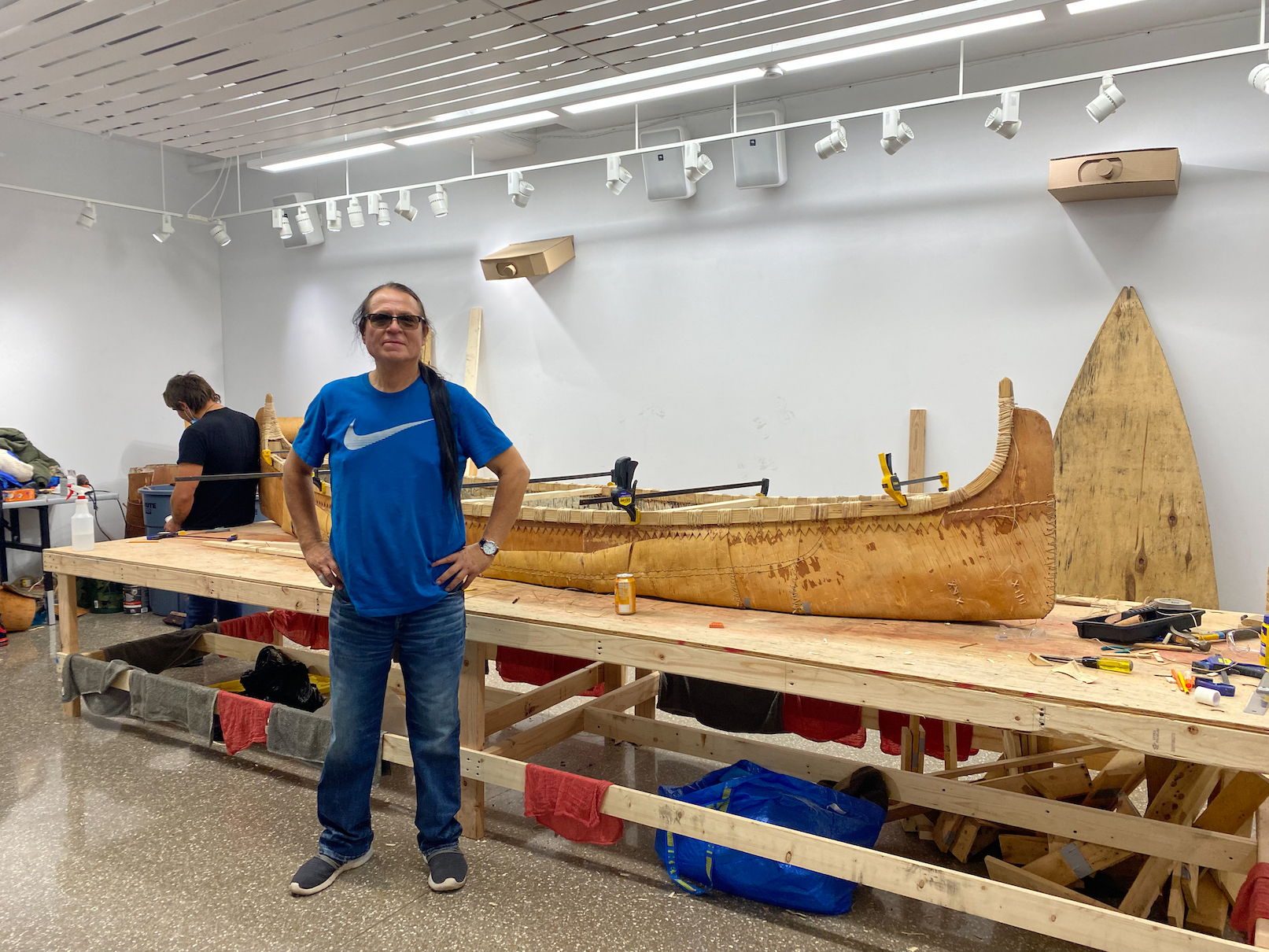 Wayne Valliere stands at his work table, his face contorted with concentration, as he fits long, curved pieces of wood into the outline of a canoe, marking them with a number two pencil when they fit snugly. Before him sits a slowly diminishing pile of these pieces, varying in size so that each one fits perfectly inside one another. Surrounding friends, apprentices and community members watch Valliere carefully, offering assistance when they can.
In October, Valliere spent three weeks at Northwestern University building a traditional Anishinaabe birchbark canoe. But the canoe's creation started long before Valliere arrived at Northwestern. In the summer, Valliere, along with a group of apprentices and helpers, ventured into the Wisconsin forest to collect the birchbark, cedar, roots and more materials necessary for the canoe, giving thanks for the trees' contributions to the project at every turn. Building a birchbark canoe requires much more than knowledge of carpentry or modern tools; it requires an intimate relationship with the natural world.
"These canoes carry culture," Valliere said. "Everywhere the Anishinaabe went, they went by canoe."
Used for fishing, transportation, harvesting wild rice and hunting, birchbark canoes represent some of the most sophisticated inland water crafts in the world. Building them takes years to master.
Valliere's role as a champion of Ojibwe culture is unsurprising; born with a white streak in his hair, his grandmother said he would be an elder before his time. In addition to his role as an Ojibwe birchbark canoe builder, Wayne Valliere teaches Ojibwe language and culture at the Lac du Flambeau Public School.
Anishinaabe elders first exposed Valliere to canoe building when he was just 13 years old. Now, he's one of only six Ojibwe master birchbark canoe builders out of a tribe of roughly ten million.
"Bits and pieces of knowledge from different people and building the canoes through the years have led me down the path of knowing what I know about birchbark canoe building," said Valliere
By the last day of building, what had looked like the mere skeleton of a canoe just a few weeks ago was now a fully functioning work of art. Valliere and his apprentices were proud – not only of what they had created, but of the knowledge and connections that had been passed down along the way.
"Canoe building brings people together," Valliere said. "It helps you to persevere life because every canoe you build, you're going to have one struggle or another. And as in life, we have struggles, but we persevere and keep going forward. And canoe building, it teaches us that."
On a rainy Oct. 29 morning, Wayne, his apprentices and Northwestern and Evanston community members gathered at the Northwestern Sailing Center to witness the canoe's sendoff. After a pipe ceremony, Valliere and his helpers carried the canoe out into Lake Michigan. Although the sweeping waves meant the canoe's entrance was more of a dip than a full-blown release, the significance of the moment was not lost on anyone. As Valliere and his helpers stood proudly behind the canoe for photographs, several onlookers were moved to tears. This was the first Anishinaabe birchbark canoe in Lake Michigan since the Treaty of Chicago of 1833 forced the tribe off the land.
"We will continue to follow our customs and follow our ways and the native way," Valliere said. "Because for millennia, our ancestors have survived with those values and morals and customs. Why can't we survive today?"
Back to articles